Become a 2023 Member Today
2023 Membership Meeting
As per the By-Laws of BARC Developmental Services, a Membership Meeting is held the first Thursday of May each year, and it is during this meeting that an election for the Board of Directors is conducted. At the May 4th meeting, the members presented the re-elected incumbents, Patricia Schuck, Dana Teeling-Hernandez, and Peggy Dominy.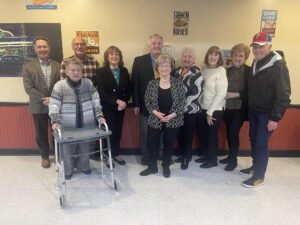 Participation sustains the mission of our agency and financial support enhances the quality of programs and services. Members are invited to our annual Membership Meeting and Reception in May, and take an active part in an election that directly impacts the future of the organization by casting votes for the volunteer Board of Directors.
Additionally, as a supporter of BARC Developmental Services, members receive the bi-annual newsletter, PROGRESS, written to inform supporters of the agency's activities and accomplishments.
Membership Meeting
Thursday, May 4, 2023
7:00PM
BARC Production Services, Warminster – 349 Ivyland Rd., Warminster, PA
Thank you for making a difference!
My son is always happy to go to BARC and is joyful!
My son can't wait to get there; we love all the people who work. We appreciate the outstanding efforts made by the staff every day.
My daughter is lovingly cared for by staff who are always helpful.
We could not be more pleased with the care and support of the staff.
I absolutely love BARC, my job, my coworkers, and of course the individuals! I believe in the agency and its mission. BARC is the best agency I have ever had the privilege to work for.
I am very pleased with the program; staff are very professional and courteous.  They are knowledgeable and answer all questions extremely well.