A very special congratulations to Alissa Gerber, Support Associate, as the recipient for this year's Justin T. Schram Memorial Award.
BARC Developmental Services Foundation created the award, presented in 2016 to recognize exceptional contributions by an associate to the agency. It was created to honor the memory of Justin T. Schram who passed away on January 5, 2016. Justin, is the beloved son of BARC's long-time former Executive Director, Dr. Robert H. Schram. Justin was an avid musician, bandleader, psycho-therapist, and certified K-6 teacher in New Jersey and Colorado. Justin was dedicated to helping others. The Justin T. Schram Award is sponsored by U.S. Medical Staffing Inc. and Trinity Asset Protection.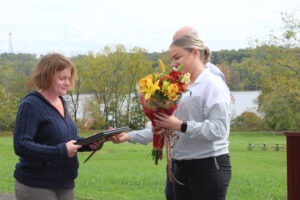 Alissa, who has worked for BARC Developmental Services at one of our CLA homes for over 17 years, has developed close therapeutic relationships with many of the folks throughout BARC and is also a life sharing provider.  She has taken groups of individuals on her own time to parks, plays, and concerts.  Earlier this year, Alissa began providing support to an individual in Unlicensed Residential Habilitation. She has dropped off homecooked meals for her and helped her shop for items for her home.  Alissa has become a voice for the supported individual and has demonstrated grace, compassion, and kindness while doing so. The individual herself voices that this associate is one of the nicest and most thoughtful people she has ever encountered.
Alissa is an excellent example of integrity and compassion; consistently going above and beyond, she is truly vested in getting to know individuals and helping the teams support them in the best possible way.
BARC Developmental Services is grateful for her positive attitude, and upbeat and fun spirit.  Alissa is an excellent example of someone who continuously demonstrates great passion for their work.  She continues to bring many positive and life enriching opportunities to many of our folks, not just as an employee but also as a friend and advocate. Congratulations Alissa!